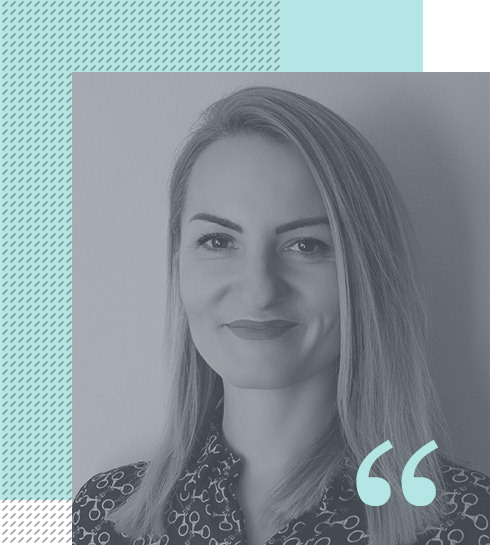 I have been working as a graphic designer for over 10 years, focusing my interests on branding and visual identification, advertising, packaging and user interface design.

While working with many companies from the IT, public relations and marketing industries, I diversified my skills. But in order to offer the best solutions and meet the customers' expectations, I always try to understand the market and think about the end user.

I like working with people and getting involved in joint projects. Regardless of distance or location, I believe that teamwork always gives us the opportunity to develop our social skills and deliver the best value. 
I've been working with Marta for several years now and every time I'm pleasantly surprised with fresh ideas. The projects are well-targeted and sophisticated, and if I need a hint, I can always count on help and professional approach. I receive finished projects on time and they are tailored to my clients' needs.
–
Ewa Rudkowska, Gamma PR
_________________________________
Working with Marta is always a pleasure. A few hints are enough for Marta to come up with some brilliant idea that exactly matches our needs. Projects are carried out quickly and very reliably. Marta quickly understood the company's aesthetics and her ideas and projects are at the highest professional level

.
–
Elżbieta Latkowska, Arkana
_________________________________
We have been cooperating with Marta Kubera for over three years, each time appreciating the aesthetics of the projects, individual approach and commitment. Always on time and professionally. We highly recommend her services.
–
Anna Sapińska, Airtrans
_________________________________
We recommend Marta's graphic services. The flyer she made for us exceeded our expectations. After short briefing we received a project we like very much. The flyer is attractive and engaging, which is very important because the target group are children and young people. Thoughtful questions about the target group of the campaign and a very nice atmosphere of cooperation made us fully trust Marta and we are happy with our choice.
–
Tomasz Kobylański, Centrum Szkoleniowo-Terapeutyczne Self
_________________________________
Marta is creative and extremely reliable in her approach to commissioned tasks, always performing with due diligence. Her experience combined with creative energy and sublime taste gives excellent results. Marta creates projects simple in form, but rich in expression, that fit in with the brand narratives. She is a professional who understands the needs of the client.
We recommend her services.
–
Halina Wyborska, Open Group
_________________________________
We have with Marta a long history of successful cooperation. With confidence we can entrust her with the most important projects, having a guarantee of high quality results. Marta showes great flexibility and has a lot of experience. Her knowledge of trends and suggesting appropriate solutions exceed the expectations assumed at the briefing stage.
–
Piotr Sarota, Sarota PR
_________________________________
Before I came to Marta, I've received a couple of unsuccesful graphic designs for my website. I didn't have a clear vision and that could be difficult for other graphic designers. But it was different with Marta. She knew more about what I needed than I did. After the first sketches I left the whole decision about the final look of my website to Marta, without hesitation. Apart from the skills and technical knowledge, Marta has something extremely valuable - intuition. And it's worth all the money. I recommend her services with all my heart. 
–
Sylwia Kopka, Coaching & Psychotherapy
_________________________________